Attention, soldiers and vets on the home front! If you're scouting for a new base of operations, a VA loan is your secret weapon. This isn't just any old loan - it's a high-ranking home purchasing strategy designed specifically for you. Here are some of the many benefits of using a VA loan to purchase your dream home:
No Down Payment
VA loans offer eligible borrowers the opportunity to purchase a home without a down payment. This means you don't have to save up a significant amount of money before you can become a homeowner. In addition, this can be especially beneficial for those who are just starting out in their careers or who have limited savings.
No PMI
Unlike conventional loans, VA loans do not require borrowers to pay for private mortgage insurance (PMI). PMI is typically required for borrowers who put down less than 20% on their home purchase and can add a significant amount to their monthly mortgage payment. With a VA loan, however, borrowers can avoid this extra expense altogether.
Competitive Interest Rates
VA loans typically offer competitive interest rates compared to other types of home loans. This can result in significant savings over the life of the loan, especially for those who plan to stay in their homes for a long time. Additionally, VA loans do not have prepayment penalties, so borrowers can pay off their loans early without incurring any extra fees.
Flexible Credit Requirements
While VA loans do have minimum credit score requirements, they are generally more flexible than other types of loans. This means that veterans and active-duty military members with less-than-perfect credit may still be eligible for a VA loan. Additionally, the VA loan program takes into account a borrower's unique financial situation, such as their debt-to-income ratio, when determining eligibility.
Assistance for Borrowers in Financial Hardship
The VA loan program offers assistance to borrowers who experience financial hardship and are struggling to make their mortgage payments. This assistance can include loan modifications, repayment plans, or even help to find alternative housing options.
VA Funding Fee
While VA loans do not require a down payment or PMI, borrowers are required to pay a funding fee. This fee helps to offset the cost of the VA loan program and can be rolled into the loan amount. The funding fee is a one-time payment that varies depending on the borrower's military status, down payment amount, and whether they have used a VA loan before. However, this fee can be waived for those who have 10% or more disability rating. Click here to see the funding fee chart.
VA Appraisal Process
Another unique aspect of the VA loan program is the VA appraisal process. Before a borrower can purchase a home with a VA loan, the property must meet certain requirements, such as being in good condition and having no safety hazards. A VA-approved appraiser will inspect the property and determine if it meets these requirements. This can help ensure that the borrower is purchasing a safe and sound home.
What to do when VA Appraisal comes back low?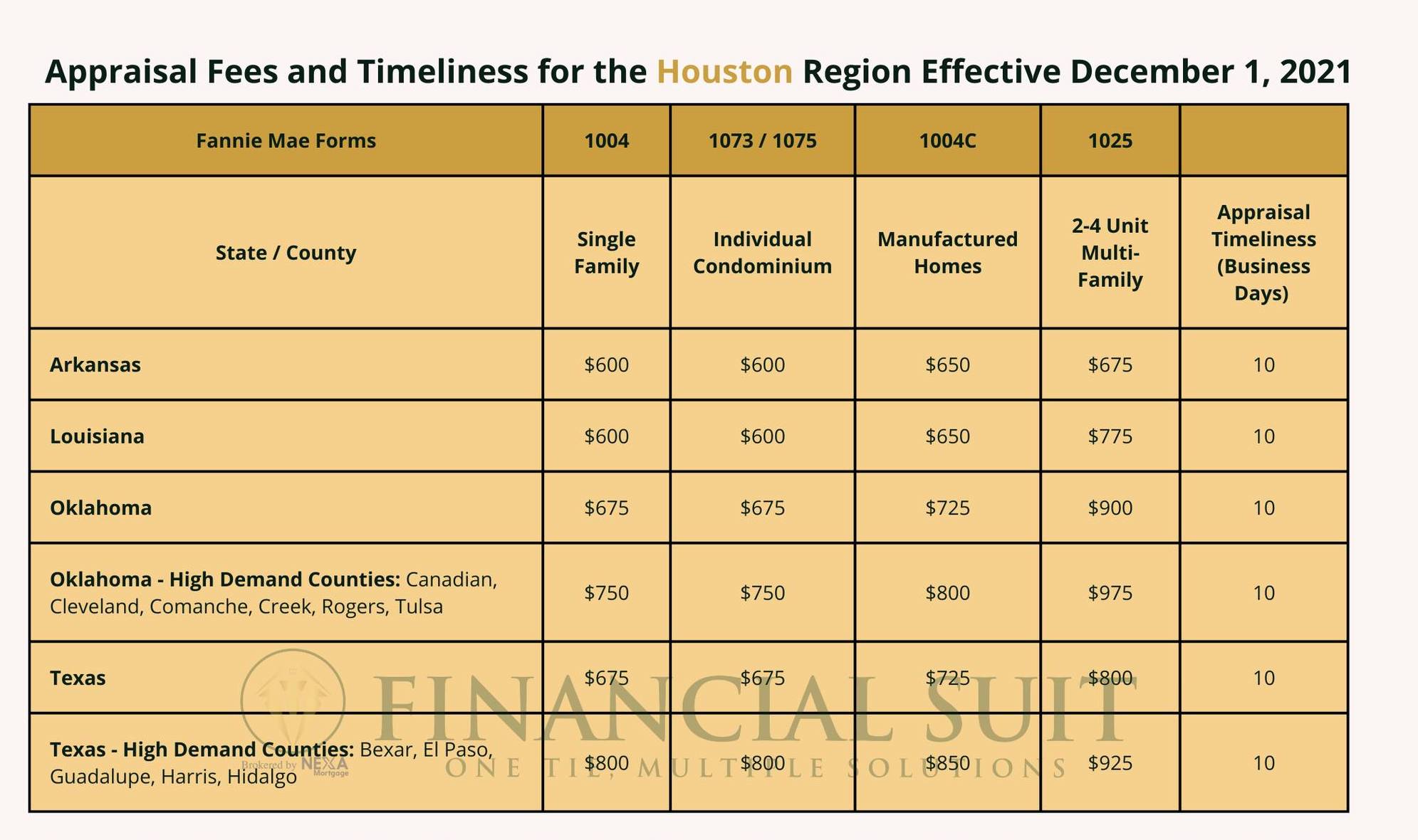 Check on the newest appraisal fee from Houston. For other states and counties, please check it here.
VA Loan Limits
VA loans have limits that depend on the home's area and entitlement status. With full entitlement - never using VA loans before - there are no loan limits for mortgages over $144k. You'll need no down payment and VA guarantees up to 25% of larger loans. With remaining entitlement from a prior VA loan, your limit is the county loan limit minus used entitlement. VA only guarantees 25% of the county limit, so you may need a down payment for loans above $144k.
How VA Home Loan Limits and Entitlement Work Together
In conclusion, a VA loan can offer many benefits to eligible borrowers, including no down payment, no PMI, competitive interest rates, flexible credit requirements, and assistance for those in financial hardship. If you're a veteran or active-duty military member looking to buy a home, it's worth exploring your options with a VA loan.
If you're interested in learning more about VA loans or want to apply for one, reach out to The Financial Suit team - mortgage professionals to significantly enhance your VA loan experience. We can help you determine if you're eligible and guide you through the application process.